How a Blend of NZ Coffee and Enthusiasm Goes a Long Way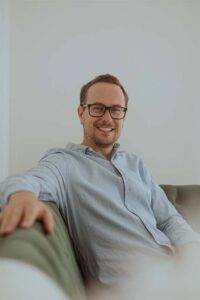 My name's Jono, and I established Bean Merchant in 2020 to give New Zealand's coffee lovers real coffee drinking choices.
Back in the day, I drank store coffee using a small Sunbeam coffee machine. Perfect for me and my fiancé! Then I made a startling discovery in Christchurch when I picked up some intriguing beans I'd never seen before. The taste blew my mind, and I was hooked.
We ordered more from the roaster online, and a whole new world of coffee opened up before our eyes. So many flavours! So many processing methods and coffee origins! It's not too crazy to say we drank our way through every roaster's coffee we could find, cup by cup.
We searched frantically for an online store where all our favourite NZ roasters were gathered together … but there was nothing.
That's when Bean Merchant was born.
Now everyone can sample the diverse range of excellent roasts New Zealand has to offer, all from the one online store.
Bean Merchant's unique flavour is its Coffee Quiz.
This quick and easy Q&A profiles your drinking preferences and matches them with New Zealand's finest coffee beans. So you get all the flavours you love, plus plenty of cool surprises.
We believe this is the best way to enjoy the incredible range of roasts we have right here in New Zealand. Our islands are home to some of the world's most outstanding natural resources, and this includes our expert roasters and their amazing coffee.
That's why Bean Merchant actively supports all the dedicated individuals behind our thriving independent coffee industry. Every coffee purchase you make empowers these coffee aficionados to create new roasts for you to enjoy. 
When their latest offers are ready, we'll pass them on to you!
My Sunbeam is still going strong, and it always welcomes new flavours to try.